We came home from yesterday's Hamilton Farmers' Market with the most wonderful haul of fresh winter greens. There's a new stall selling some terrific green vegetables. This weekend they were selling a couple of Asian style greens, my favourite daikon radish and some marrows. And then they brought out crates brimming with red and green cabbages, cavolo nero, broccoli and silverbeet.
All spray free and wonderfully fresh – straight out of the ground. The stall is called Suncakes Gardens, and it's run by a family from China. They've only been at the market a few weeks. Daphne, the Cambridge Farmers' Market manager, says they're going to be at the Cambridge market as well next Saturday.
Spray free and straight out of the ground.
Also at the market this weekend there was seasonal fruit: apples, feijoas and persimmons. (But no citrus.) And locally grown grapes.  We bought crunchy florence fennel, cos lettuce and tiny carrots with the greens still on from the Southern Fresh salad greens stall. I also took home some Fuerte avocados (certified organic). And a bag of Lennart Prinz's wonderful oyster mushrooms.
Stretching out the seasons
As well as the seasonal crops, some market stallholders are using technology to stretch out the seasons.
Out of season, but good: Southern Belle peppers and Plainsview tomatoes and cucumbers.
Stephen and Jan Lowe, of Plainsview Gardens, are growing flavoursome tomatoes and cucumbers just about all year round. I would never buy out of season tomatoes anywhere else. And Southern Belle's jewel-coloured sweet capsicums brighten up a winter's day. They're grown in a greenhouse, using biological growing methods, including beneficial insects and compost tea. This year Southern Belle won the supreme award at the 2015 Waikato Farm Environment Awards, in recognition of their environmentally sustainable growing practices – a well deserved accolade.
Now our kitchen is full of greens. My eldest son, Tom, is hard at work turning the cabbages into sauerkraut. This is an excellent development. This time last year I made sauerkraut and everyone else ate it. Then over the summer my husband, Matthew, tried his hand and found he was good at it – he's the one with the German grandma, after all. Now the sauerkraut bug has spread to the younger generation.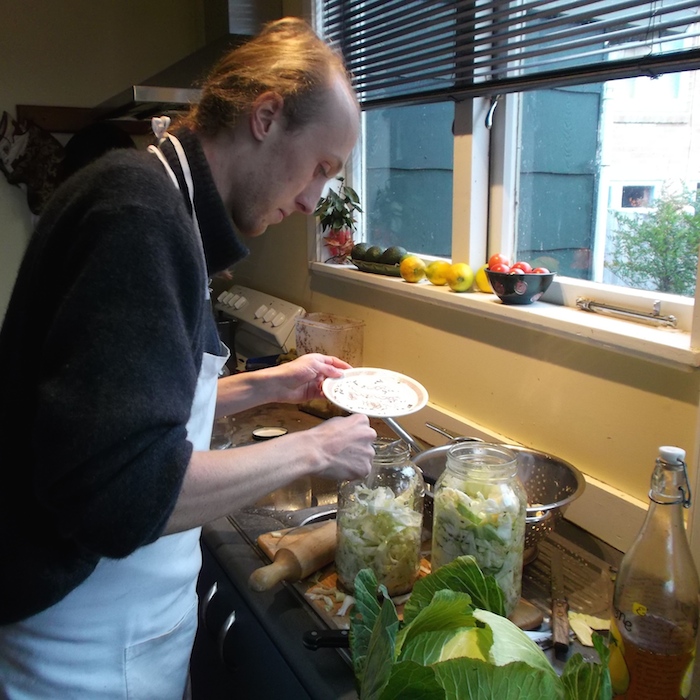 Tom making sauerkraut: the bug has spread to the younger generation.
Sauerkraut goes especially well with good sausages, such as the English-style ones from Soggy Bottom, and of course the excellent German-style wurst from The Organic Butcher (both of whom are now at the Hamilton Farmers' Market)… And some good sourdough ciabatta rolls from Volare.
Home-made sauerkraut 
Our recipe comes from Sandor Ellix Katz, the fabulous fermentation activist. It's adapted from his book Wild Fermentation: the flavour, nutrition and craft of live-culture foods (Chelsea Green, 2003).
To make sauerkraut, you need: 
a 2 litre glass jar
a small, clean glass jar with a lid, that fits inside the top of the 2 litre glass jar. Filled with water, this is used as a weight to press down on the cabbage while it ferments. (Some people use a clean stone for this.)
a piece of cheesecloth or tea towel to cover the jar
a cabbage
2 or 3 tablespoons of sea salt
optional: 1 tsp caraway seeds
Chop cabbage fairly finely. Place it in the jar as you go and sprinkle salt and caraway seeds over each layer. Squeeze the layers down well using your fist or a rolling pin end. You will probably be able to fit one large cabbage into a 2 litre glass jar. Place the small glass jar filled with water on top of the cabbage, and press down. Cover the whole thing with a piece of cloth and secure with a rubber band. (This is to stop bugs, flies, ants etc from finding their way into your sauerkraut.)
Leave it on the kitchen bench or somewhere convenient. Check it every day or so. After a few days you can start to sample the sauerkraut. Fermentation might take a week or 10 days, depending on the season. When it's sour enough for your taste, drain off excess liquid and store in the fridge. 
The main thing that may go wrong with sauerkraut (in my experience) is that it could dry out – in which case it will go rotten. In hot weather you should check it regularly and add water (filtered or non-chlorinated) if there isn't a good layer of brine covering the cabbage. 
If you accidentally put too much salt in, just add more cabbage.