On a sizzling hot summer's day, good icecream is a great idea. And the place to go for locally made frozen treats is right here in my neighbourhood: Duck Island, on the corner of Grey St and Cook St in Hamilton East.
Duck Island's quirky, playful icecreams are fast gaining a cult following. My current favourite is the wonderfully tangy peppermint slice.
With 18 flavours, there's something to wake up the most jaded palate. Other standouts include blackberry and sage, and the vegan coconut, strawberry and kaffir lime.
I also enjoyed the roasted white chocolate with miso. (It sounds weird, but it works.) And there are floats, sundaes, iced coffee, and locally made kombucha. 
Fresh off the tree: lemon pie icecream. Photos courtesy Duck Island.
Organic milk
All the icecream is made with certified organic milk, and there are no stabilizers or artificial colours. There are also four or five non-dairy options, using fruit or coconut yoghurt as a base.
Duck Island opened six months ago, in the middle of winter, so there's been plenty of time to fine-tune before the summer rush. This time of year the shop is inundated by icecream fans of all ages. Icecream is something people can agree on.
Duck Island is co-owned by Morgan Glass, Kimberley Higgison and Cameron Farmilo, who are also behind the award-winning restaurant Chim Choo Ree, just across the river from Ham East. All three live in Hayes Paddock. They'd been thinking about an icecream business, and looking for the right place, for a couple of years. 
Duck Island is the "local" name for the island in the middle of the Waikato River, just off Hayes Paddock. (Its official name is Graham Island.)
On a hot January afternoon I spoke with Morgan Glass, who's the creative mind behind most of the flavours. She said coming up with new ideas is easy at this time of year, with all the local seasonal fruit. This week's plum sorbet was made with plums from a backyard tree. Other current flavours feature Monavale's organic blueberries, and strawberries from a farm down the road.
And I was happy to learn that a peach and ginger sorbet is on the cards – I love everything to do with peaches.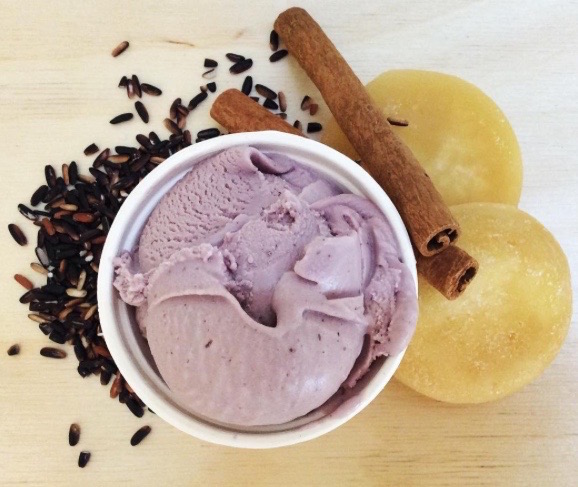 Black sticky rice cream, one of the wonderful non-dairy flavours. 
There's even a sugar-free icecream, sweetened with stevia. It's available on request. Morgan says they are working on some more sugar-free flavours, using sweet fruits such as dates. And they're developing a wholesale icecream range to supply to discerning Aucklanders – Duck Island's reputation has travelled over the Bombay Hills.
When I first moved to Hamilton, I wondered why the Waikato didn't have a local icecream brand. Now, Duck Island is delivering way beyond my expectations.
I reckon they are onto a very, very good thing.
Duck Island Icecream
300a Grey St, Hamilton East (on the corner of Grey St and Cook St)
Open Tuesday to Sunday from 11am
Duck Island Icecream Facebook page
Phone (07) 856 5948