I have a favourite plant family. Apiaceae or Umbelliferae – both names are commonly used.
It's also known as the parsley, celery and carrot family.
So many plants I love to grow and eat belong to this family.
Parsley is my favourite green herb, as readers of this blog may know. You can read more about parsley here.
This wonderful plant family includes fennel, lovage, cicely (also called chervil), coriander (also called cilantro), parsnip, carraway, cumin, celeriac, and more. Anise, asafetida, angelica and sea holly are also in the Apiaceae family.
In the Kings Seeds catalogue I found yet another: Alexanders, Smyrnium olusatrum. It's an ancient herb also known as wild celery, black lovage or horse parsley.
The poisonous cousin
Most notoriously there's hemlock, Conium maculatum, the poisonous cousin of the family. Hemlock is seriously toxic. The Greek philosopher Socrates was executed using a drink containing hemlock.
Hemlock grows wild in some parts of New Zealand.
There are also various edible wild Apiaceae species, including cow parsley, Anthriscus sylvestris, and wild carrot, Daucus carota. Some of these are broadly similar in appearance to hemlock.
If you're not absolutely certain of your plant identification, don't risk eating wild plants.
Wild fennel grows profusely in many areas and is easy to identify. If you're harvesting wild fennel make sure it hasn't been sprayed with herbicide.
More about Apiaceae
Apiaceae/ Umbelliferae is a family of aromatic, flowering plants which are annual, biennial or perennial, depending on the climate zone. They have sculptural umbrella-like flower branches, with many tiny flowers on each branch.
As well as being pretty, Apiaceae flowers are very attractive to beneficial insects, which makes them valuable companion plants in a garden. Although they can take up quite a lot of space when they flower.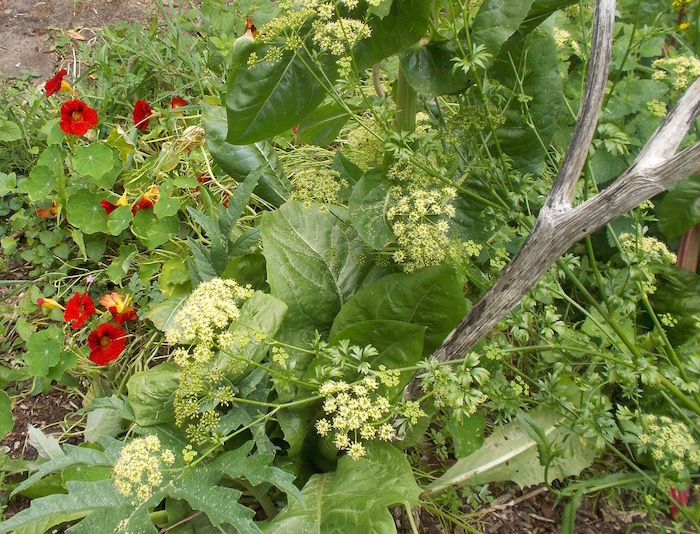 Most of the well known Apiaceae species originated in the Mediterranean region. But globally there are also many regional varieties, including arracacha, also called the Peruvian parsnip, which is a popular root vegetable in South America.
We use different parts of the various Apiaceae species. With parsnips the roots are eaten; with celery and celeriac it's the stems, while the seeds are also useful.
With Florence fennel the main part that is used is the bulb at the bottom of the stem. But fennel leaves and seeds are also used in cooking.
With coriander, also called cilantro, all parts of the plant are valuable in cooking: the leaves, stems, roots and seeds.
Apiaceae in herbal energetics
In herbal energetics theory, most of the Apiaceae family would be considered pungent, and/or aromatic. Parsley is considered pungent, and so are coriander and Florence fennel.
I've written much more about herbal energetics and how this field of herbalism can be applied to salad greens in my forthcoming my ebook, Meet Your Greens: Enliven Your Salads With Herbal Energetics.
US-based herbalist Rosalee de la Foret writes about herbal energetics on her website, and also in her very interesting book Alchemy of Herbs.
Where to find Apiaceae
Most of the species in this article grow well in the Waikato. Most are annual or biennial in this climate region.
Apiaceae are mostly quite seasonal.
Although it's possible to grow parsley all year round, it grows faster in spring and autumn, and tends to bolt to seed in summer and sit without doing anything in winter. Coriander is a cool-weather crop. It bolts to seed in hot dry weather. I learned this the hard way.
Celery will grow happily in the garden year-round. I just pick a couple of stalks at a time. Here's a link to my post with more about celery.
And here's a post about celery's weird-looking cousin, celeriac.
Lovage is a perennial – it dies down in winter and sprouts in spring, if I don't dig it up accidentally.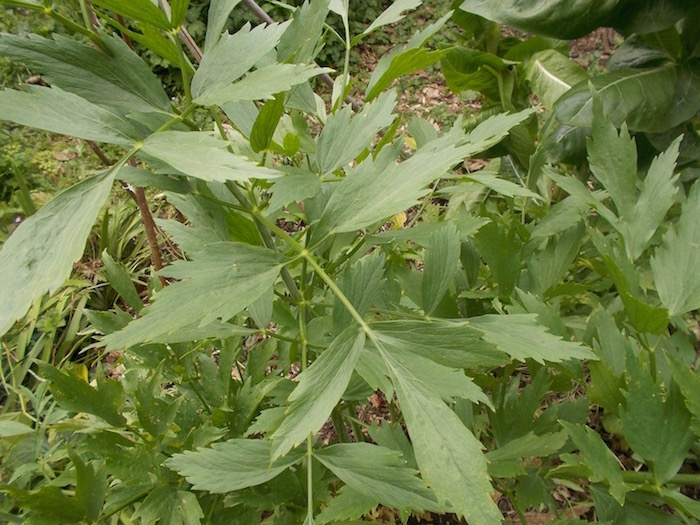 Some Apiaceae recipes
Fennel
My favourite Florence fennel salad
Trim the tops from two or three fennel bulbs. Finely slice the bulbs.
Dress with a mustardy vinaigrette. Here's my recipe for vinaigrette: Mix together four parts olive oil, one part white wine vinegar, a pinch of sugar, a pinch of salt, and a teaspoon of dijon mustard (more to taste).
Leave to marinate for an hour before serving.
Fennel greens are great with tray-baked salmon. Finely chop a handful of fennel greens and sprinkle over the fish before you put it in the oven.
Fennel seeds are a great x-factor ingredient in Indian-style fried potatoes.
Here's a link to my husband Matthew's recipe for Sookhe Aloo, Indian-style fried potatoes.
Coriander
Coriander, also known as cilantro, is an important herb in the regional cuisines of South-East Asia and South America, and Italy too.
Salsa – Mexican red sauce, also known as salsa cruda
This goes with refried beans and corn chips.
2 medium tomatoes, finely chopped
½ a small onion, finely chopped
1 clove garlic, minced
1 jalapeno chile, minced (or half a chilli if using a hotter kind)
1 Tablespoon chopped cilantro (coriander leaves)
1 Tablespoon lemon or lime juice
1 teaspoon olive oil
a dash of salt
Mix together in a glass bowl. Cover and refrigerate for at least an hour to let the flavours develop.
Parsnips
I think parsnips generally grow better in regions with colder winters than the Waikato. I had a great crop of parsnips in my garden one year, but didn't have much luck the following year.
Parsnips didn't feature in my parents' cooking. I'm pretty sure they don't grow well in Papua New Guinea, where I spent my childhood. But I've come to love parsnips.
Just one parsnip is a great addition to a beef stew.
Parsnip oven wedges
Parsnips make superb oven-baked wedges. They cook faster than potatoes – approximately 30 minutes in a hot oven 220 degC.
My favourite combination is a tray of parsnip and kumara wedges.
You need equal amounts of parsnips and kumara.
Peel the parsnips and cut into wedges, e.g. 2cm x 5cm approximately.
Chop the kumara into wedges. I don't peel kumara, but you can if you prefer.
Heat two or three tablespoons of olive oil or lard in a shallow oven tray. Add the parsnips and kumara and shake so all the pieces are coated in oil.
Sprinkle salt and pepper over the top.
Place the pan in a hot oven, 220 degC.
Bake for half an hour or until the wedges are cooked. Check regularly and turn the wedges so they brown evenly.
Celery
Those big crunchy celery heads are almost always grown with huge loads of toxic sprays.
Spray-free celery is much smaller and usually the stalks are tougher. This kind of celery is best added as a flavouring to soups and stews. Here's a link to my post with more about celery.
Pickled coleslaw
This interesting marinated salad has celery seeds in the dressing.
It comes from Authentic Mexican Cooking, by Susan Vollmer (Nitty Gritty Cookbooks).
Ingredients
Half a large cabbage, finely sliced
One green or red capsicum, finely sliced
2 stalks of celery, finely sliced
2 spring onions, finely chopped
1 teaspoon salt
freshly ground pepper
Dressing
1/3 cup olive oil
1/3 cup cider vinegar
2 teaspoons sugar
2 teaspoons celery seeds
Method
Combine the vegetables in a large glass or ceramic bowl.
In a saucean heat the oil, vinegar, sugar and celery seeds until the mixture boils and the sugar dissolves. Simmer for a few minutes.
Pour the hot dressing over the vegetables. Add salt and pepper and stir to combine.
Let stand for at least two hours before serving.
Dill
The flavour of dill says Scandinavian-style food to me. Although many other Northern European cultures also feature dill.
A small handful of finely chopped dill leaves in a marinated cucumber salad goes superbly with fish.
Dill seeds are commonly used as flavouring for gherkins. But there are many other interesting ways to use dill.
GoodBugs, my friend Marea Smith's sauerkraut company, make a superb dill flavoured sauerkraut. You can find GoodBugs Dilly Dally sauerkraut at the Waikato Farmers' Markets and in selected retailers.
Easy Sunday night supper
All from Hamilton Farmers Market!
Smoked fish from the Raglan Fish stall
Boiled potatoes from Cato's Potatoes, with Bellefield sea salt butter
Goodbugs Dilly Dally sauerkraut
Lovage and chervil
Lovage has a strong, bitter flavour – rather like celery leaves, but much stronger.
A little bit of lovage goes a long way. I would add just one small leaf of lovage to a chicken broth. More than that will overwhelm the other flavours.
Chervil, also called cicely, has a mild aniseed flavour. I use small amounts in salad or sprinkled on scrambled eggs.
I mainly grow chervil for its pretty leaves, and as a companion plant.
More posts about the parsley family
Parsley, sage, rosemary and thyme