Seven gorgeous alcohol-free summer drinks.
This summer, try making some of these delicious and interesting beverages. 
Most ready-made drinks (healthy and otherwise) are very sweet. When you  make them yourself you'll know exactly how much sugar you're consuming.
And it's easy and fun to make home-made fizzy drinks.
The drinks in this article are all easier and quicker than kombucha.  (But I love that too. Here's a link to my post about kombucha.) 
About bottles
The non-fizzy drinks – the iced teas, and the first lemonade recipe – can be taken to parties in a classy glass bottle or kept in a jug in the fridge.
The fizzy beverages should be kept in screw-top plastic bottles that can handle pressure buildup from fizzy drink.
Either recycle some plastic soda pop bottles, or buy new bottles from a home-brewing supply store.
Classic iced tea
Ingredients
2 tsp black tea
1 litre water
2 lemons
2 tablespoons sugar (add more to taste)
Method
Peel the lemon rind and place in a 1 litre jar with sugar and tea.
Half fill the jar with boiling water.
Stir to make sure the sugar is dissolved.
Leave to steep for 5-10 minutes.
Add cold water to fill the jar.
Strain the tea into a jug or another jar.
Add lemon juice to taste.
Pour over ice cubes to serve.
Peach and ginger iced tea
Ingredients
1 peach
2 green tea bags
2 tsp ginger, grated
1 tablespoon honey (I used Sweetree Marakopa Summer raw honey)
Method
Stone and chop up the peach (don't worry about peeling it).
Place the peach, ginger and tea in a 1 litre glass jar.
Pour boiling water to half fill the jar.
Leave to steep for 5-10 minutes.
Add cold water to fill the jar.
Discard the teabags.
Strain into a jug.
Stir in the honey while the tea is still warm.
Chill in the fridge.
If you like a strong ginger flavour, mash the peach and ginger after straining and add 1 tablespoon to each glass of tea.
If you have a sweet tooth, add more honey or sugar to taste.
Lemonade
Ingredients
2 lemons
4 litres boiling water
1/2-1 cup of sugar
Method
Slice lemons. Place in a large heat-proof bowl or plastic food-grade bucket.
Cover with the boiling water.
Stir in sugar.
Cover and allow to cool.
Strain the liquid into jars or bottles, squeezing the juice out of the lemon slices.
Store in the fridge.
Fizzy lemonade
Ingredients
3 or 4 lemons, depending on size
1/2 cup raisins
1 kg sugar
500 ml boiling water
7 litres cold water
Slice the lemons into a large container – I used a 10 litre food grade bucket.
Add the raisins and sugar.
Add the boiling water and stir well to dissolve the sugar.
Add 7 litres cold water and stir.
Cover and leave for four days.
Strain and pour into plastic bottles that can cope with fizz.
Leave for one or two weeks before drinking.
Open cautiously so the fizz doesn't overflow.
Elderflower champagne
This is a traditional European summer treat. The essential ingredient is freshly picked elderflower heads.
Mine came from my friend Sarah's elder tree.
The recipe comes from Gilian Painter's classic, A New Zealand Country Harvest Cookbook.
Ingredients
7 elderflower heads
2 sliced lemons
4 litres boiling water
2 ½ cups sugar
2 tablespoons white wine vinegar
Method
Place the sugar in a 10 litre food grade plastic bucket.
Pour the boiling water over and stir till sugar is dissolved.
When the water is cold, add the remaining ingredients.
Stir again.
Cover and leave for 24 hours.
Strain through a fine strainer, pour into bottles and seal.
Do not fill the bottles too full as this mixture is very fizzy.
Leave one or two weeks before drinking.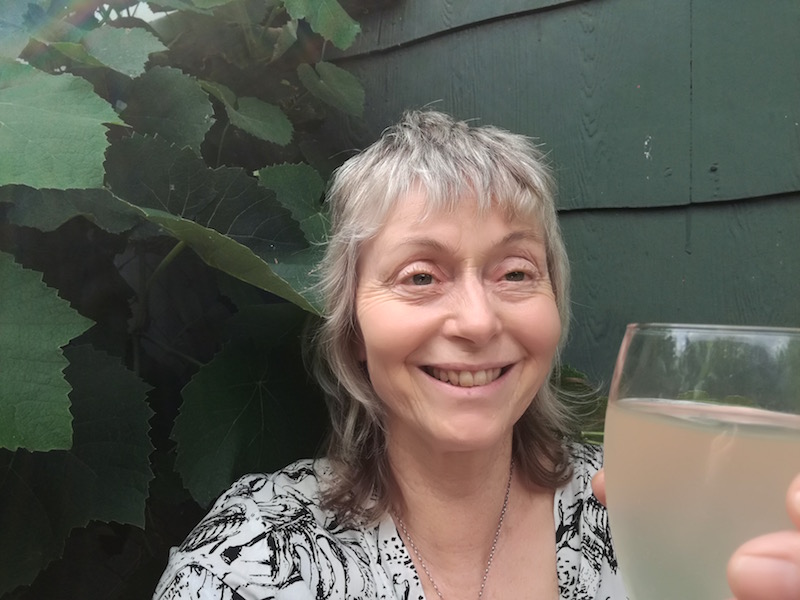 Redcurrant soda pop
This is a beautiful and delicious festive pink drink.
Redcurrants are in season about now. 
This recipe came from Quinta do Vale's Permaculturing in Portugal blog.
Makes 3 litres.
Ingredients
500g redcurrants
2 litres water
1 lemon
500g sugar (next time I'll try using a bit less, e.g. 400g)
1 litre water
Method
Put 500g redcurrants in a large bowl. Use a potato masher to break up the redcurrants a bit.
Add the juice of half a lemon and the other half of the lemon, thinly sliced.
Add 2 litres of water.
Cover with a clean tea towel and leave to stand at room temperature for 24 hours.
Dissolve 500g of sugar in 1 litre of water.
Strain the fruit water into the sugar water, stir, then pour into plastic soda bottles that won't explode with the pressure.
The fermentation will take off almost immediately.
Keep at room temperature until the fermentation has peaked and calmed down a bit – five days or so.
Release the pressure build-up as required – you'll need to do it 2-3 times a day at least.
The soda will keep in the fridge for a few weeks – the cold will slow the fermentation down.
Here's a link to my post about other great things to do with redcurrants. 
Easy ginger beer
This super-quick ginger beer recipe only takes two or three days to brew. It comes from Julia Mueller's blog theroastedroot.
Julia points out that if you want "real" ginger beer with lots of probiotics in it, then you'll need to use a ginger beer bug and it will take several weeks from start to finish.  She has recipes for that kind of ginger beer on her blog too.
Ingredients
2 litres water, plus one cup (you will end up with 2 litres of ginger beer)
1/3 cup grated ginger
½ tsp cream of tartar
1/3 cup lemon juice
1 cup sugar
1 tsp active dry yeast – I used the kind my husband uses in the breadmaker.
Method
Peel and grate the fresh ginger.
Add the cream of tartar, lemon juice and ginger to a large pot.
Add 1 litre of water, and bring the mixture to a full boil.
Turn the heat down to medium, add the sugar and stir until all of the sugar is dissolved.
Add 1 litre of cold water to the pot. Allow it to cool to around 23 degrees Celsius – just above room temperature.
Add the yeast and stir well.
Cover the pot with a kitchen towel and place in a warm, dark part of your house for three hours. The mixture should smell gingery and yeasty!
After three hours, strain the liquid into a large pitcher to remove all the bits of ginger. Use a fine strainer.
Pour the brew into a clean 2 litre plastic fizzy drink bottle – empty soda water bottles work perfectly. You can also use two 1 litre bottles. But do not fill up the bottles all the way because the fermentation will yield carbon dioxide.
Place the ginger beer in a dark, warm room for two to three days.
One to three times a day, carefully loosen the caps to relieve some of the pressure (without opening the bottles all the way).
The drink becomes very pressurized and fizzy, so skipping this step could result in a ginger beer bottle explosion.