I love chestnuts – they're one of my favourite things about autumn. They're in season right now, for a few weeks only.
I bought a 1kg bag for $5 from the Hamilton Farmers' Market on Sunday.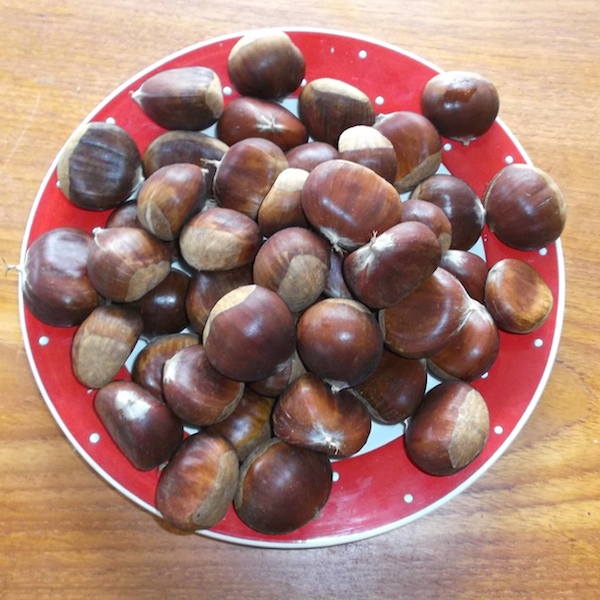 Chestnuts grow easily in the Waikato, but the trees are huge – too big for most city sections. (Note: these are sweet chestnuts, not horse chestnuts, which are not edible.) If you have a friend with a chestnut tree on their lifestyle block, now's the time to visit them. There are some sweet chestnut trees in Hamilton public parks, but you'll face stiff competition from the locals. Or there's a roadside sign advertising chestnuts for sale on the Taupiri road just north of Gordonton.
Chestnuts are a bit fiddly to peel, especially the first time you do it. But the results are so worthwhile. There are a few different methods, and they all involve peeling the chestnuts while they're hot. (See later this post for how I do it.)
In France and Italy chestnuts are treasured, and used in both sweet and savoury dishes. I've also seen some interesting Chinese chestnut recipes, but haven't tried any yet.
Chestnuts are starchy compared with other nuts, and they're gluten free and packed with minerals and vitamins. They have a unique flavour and texture and add a satisfying mass to soups and stews. They tend to go mouldy, so store them in the fridge and use them quickly.
For even more about chestnuts in the Waikato, here's another Waikato Foodbasket article: www.waikatofoodbasket.co.nz/land-of-chestnuts
What to do with chestnuts
Easy chestnut–chocolate pudding: Crème au chocolat et marrons
Makes enough for five or six greedy people
2 cups of peeled chestnuts, simmered in a small amount of water to cover until they are very tender (approx half an hour to 45 minutes).
Put through a mouli (ideally) or process until very smooth.
Place in a bowl and add:
½ cup good quality cocoa – I buy mine from the Trade Aid shop
½ cup icing sugar
2 tablespoons brandy – or a dash of vanilla essence, but brandy is much better
¼ cup cream (unwhipped)
Stir well.
Whip until stiff:
¾ cup cream
Fold into the chestnut-chocolate mixture.
Chill in the fridge for at least one hour before serving.  It's even better 24 hours later, if you can wait that long.
Pumpkin and chestnut soup
1 smallish pumpkin, or a large chunk from a big pumpkin
Peel and de-seed pumpkin and chop into pieces.  Place in a large saucepan with 1 large leek, sliced, 1 stick of celery, sliced, and 2 litres water, vegetable stock or chicken stock. (Optional extras: parsley, garlic, onion, fresh thyme)
Add 1 cup of peeled chestnuts.
Add 1 tsp salt if using water rather than stock.
Bring to the boil and simmer for 45 minutes or longer – until everything is soft.
Run through a mouli or use a stick blender to blend until smooth.
Check seasoning and add more salt and pepper if needed.
Serve with a dash of cream, kefir or coconut cream (to balance the sweetness of the pumpkin) and a sprinkling of finely chopped parsley.
Chestnut and feijoa stuffing
This is my version of the classic chestnut and prune stuffing for chicken or turkey – it's also great on its own as a non-meat "main". Feijoas (dropping off the trees right now) team with chestnuts very well. This was inspired by a recipe in one of my favourite cookbooks, Hugh Fearnley-Whittingstall's classic Cuisine Bon Marche (MacMillan, 1994).
2 cups peeled chestnuts (approx 500g unshelled chestnuts)
2 sticks celery, chopped
1 small onion, chopped
30g butter
1 cup roughly chopped feijoa pieces (approx 8 to 10 feijoas – measure after scooping out of the skins)
1 Tbsp chopped parsley
salt and pepper
1 egg
Simmer the chestnuts in water until tender – 35 to 40 mins. Drain and break up with a fork – they should be roughly broken, not pureed. Sweat the celery and onion with butter in a pan for a few minutes, then add chestnuts, feijoas and parsley. Season with salt and pepper, mix well and cook for a further few minutes. Remove pan from the heat.
When the mixture has cooled a little, mix in the egg.
If you're not stuffing a bird, pile the mixture into an oven-proof dish and top with breadcrumbs (if desired). Bake for 30 minutes in a preheated oven at 190 degC.
How I peel chestnuts
Place the chestnuts in a small saucepan of water. Bring to the boil and simmer for approx 10 minutes. Using a slotted spoon, take 5 or 6 chestnuts out of the water and place on a wooden board. With a small sharp knife, cut chestnuts in half and scoop the insides out of the shell (sometimes they just pop out, but sometimes it's harder). This is much easier while the chestnuts are hot, so I just do a few at a time.  You also need to peel off most of the thin brown covering, because it tastes quite bitter. I have heard that Asian chestnut varieties are easier to peel, so mine might be European. Anyway, this method works for me. Other people suggest making a shallow cut in each chestnut, then roasting them for 15 minutes at 180 degC, before peeling. (If you don't cut the chestnuts first, some may explode in the oven.)