Fruit grows all year round in the Waikato. All kinds of fruit. Well, okay, we don't have the climate for tropical varieties, like mangoes or pineapples (although some clever people are growing bananas). But just about anything else: berries, peaches, apples, citrus, plums and more.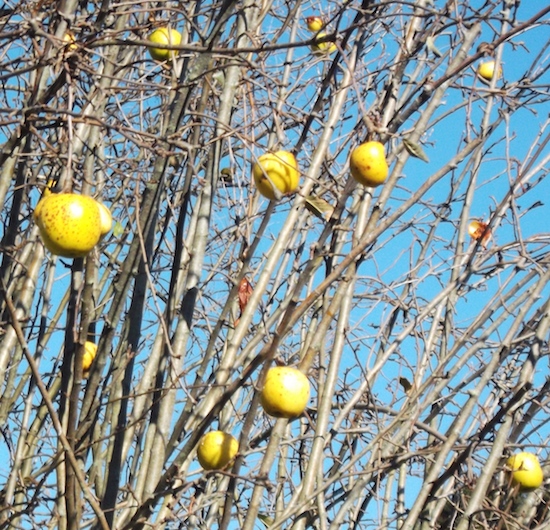 Apples on a tree in midwinter
In orchards, in backyards and on lifestyle blocks, people are growing a huge range of fruit. There's also a movement towards planting fruit trees on public land – parks, roadsides and in community orchards. This is great because with smaller sections many people don't have space for large trees.
In my Hamilton neighbourhood there are orange and mandarin trees laden with beautiful ripe fruit. The golden apples pictured are tree-ripened granny smiths in a neighbour's backyard, still good eating in the middle of winter. This time last year I would have had tamarillos, but my tree has been sadly stressed by drought and now frost, and I think I'll have to replace it.
This is a great time of year to plant fruit trees. They're very cost effective – they'll easily repay the investment with one season's fruit. And they don't take much looking after.
With a bit of planning, you can harvest homegrown fruit 365 days a year. It's a matter of working out when the fruit will ripen. I was interested to learn that different kinds of oranges and mandarins bear fruit at different times – if you plant the right varieties you can eat citrus all year round. The same goes for lemons. I get annoyed when I see oranges from the USA or Australia in the supermarket – we could so easily be eating locally grown oranges, without needing coolstores and long-distance freight.
Twelve months of fruit
This list gives an idea of the possibilities for fruit growing in the Waikato. It's my own synthesis from two highly knowledgeable sources: Maxine Fraser; and Clare Jackson and Tim Newton of Greenfootprint. Maxine is involved with the Treecrops Association and also teaches a module on trees for the Hamilton Permaculture Trust's Permaculture Design Certificate http://hamiltonpermaculture.org.nz/. Clare and Tim teach food gardening, garden design and tree care, amongst other things. www.greenfootprint.co.nz
The Treecrops Association is a goldmine of local knowledge about fruit tree growing, both commercial and backyard. The Waikato branch has monthly field trips – there's one this weekend. http://www.treecrops.org.nz/
Fruit growing will be affected by climate variation and microclimates within the Waikato, particularly the amount of frost. For example Thames and Raglan have relatively mild winters, whereas Tokoroa or Taumarunui have heavier frosts. And fruiting times may also vary, depending on weather patterns.
Anyway, I hope this inspires you to grow fruit!
January
Apple (Gravenstein/ Oratia Beauty, Sunrise), peach, plum (Omega, Purple King, Luisa), apricot, avocado (Reed), Harwood late orange, nectarine, blueberry, raspberry, strawberry
February
Apple (Cox's Orange), plum (Fortune, damson, Black Doris, Hawera), nashi, blackberry, grape, avocado (Reed), nectarine, blueberry, fig, passionfruit, grape (Niagara), raspberry (Aspiring)
March
Apple (Reinette du Canada), pear, fig, black passionfruit, casimiroa, feijoa, blueberry, grape (Niagara, Albany Surprise), raspberry (Aspiring), peach (Golden Queen), pepino
April
Apple, feijoa, yellow passionfruit, grape (Albany Surprise), guava (yellow and red), fig, tamarillo
May
Apple, feijoa, guava, persimmon, kiwifruit, tamarillo
June
Apple (Granny Smith), persimmon, kiwifruit, tamarillo, pomegranate, pepino, guava, mandarin (Miho and Silverhill)
July
Kiwifruit, tamarillo, grapefruit, yellow guava, mandarin (Miho)
August
Tamarillo, avocado (Hass), Navel orange, mandarin (Miho)
September
Tamarillo, avocado, mandarin (Encore, Clementine)
October
Cherry (Tangshi), cherimoya, tangelo, avocado (Zutano), loquat, mandarin (Clementine)
November
Cherimoya, babaco, loquat, strawberry, currant, tangelo, avocado (Pinkerton)
December
Loquat, strawberry, raspberry, plum (Wilson's Early, Billington), tangelo, avocado (Pinkerton), blueberry