Despite the autumn drought, this has been a good year for growing kumara or sweet potato in Hamilton. Several gardeners I know have had excellent kumara crops. April and May are the months when kumara is harvested.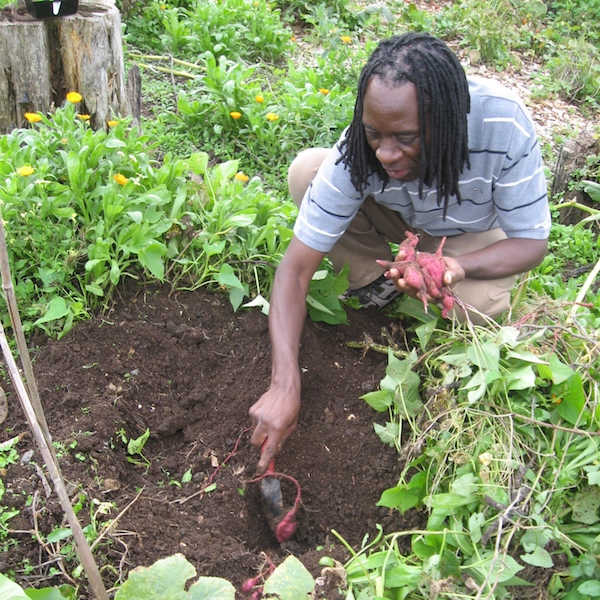 Above: Fungai Mhlanga harvesting kumara at Grandview Gardens. Photograph taken by Clare Jackson, Community Garden Mentor.
Kumara (Ipomoea batatas) has been grown in the Waikato for at least seven centuries. It was one of the food crops the Maori migrants brought with them across the Pacific on their canoes. There are some old varieties of kumara still being grown, and I hope to write about this in a future post. Te Parapara, the traditional Maori garden at Hamilton Gardens, has a big kumara patch. However, most people today are growing newer varieties.
About 90 percent of New Zealand's commercial kumara crop is grown in the Kaipara. I don't know how much kumara is being grown for sale in the Waikato, but plenty of home gardeners grow it successfully.
Many of the gardeners at Grandview Community Gardens in Nawton have been harvesting sweet potatoes this season. One of the garden trustees, Fungai Mhlanga, was very pleased to dig up a bumper crop of kumara when he cleared his plot to make way for planting broad beans a couple of weeks ago. Fungai, who comes from Zimbabwe, said he has grown sweet potatoes in Africa, but the methods he has learned for growing them in New Zealand are quite different. "In Africa we made a small heap for each plant. Here, we built one big heap." Another local planting technique he has learned is to bend the bottom of the shoot like an umbrella handle when planting.
The kumara plants didn't need much looking after, he says. "It was quite easy. We didn't do a lot of maintenance. After you mulch them, you just leave them for a long time."
Fungai, who is a health educator, says in Africa sweet potato is typically boiled with salt until it's soft, and eaten for breakfast. But he has learned from some of the Chinese gardeners at Grandview that the leaves and stalks are also good to eat, stir-fried, with chilli and garlic, and sometimes coconut cream. (The Burmese gardeners also cook the leaves like this.)
Fungai says there's another tip he's picked up from the Chinese gardeners: "When you harvest the leaves for cooking, you get bigger tubers as well."
Grandview Community Garden is a multicultural allotment community garden with more than 80 gardeners and volunteers representing at least 13 ethnic groups.  It's in Nawton, Hamilton. To find out more, visit their facebook page. Or contact the garden mentors, Clare Jackson and Tim Newton, 0210387623.